Car Trailer Hire Auckland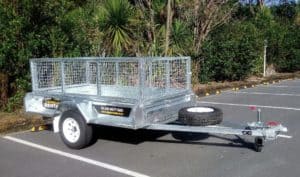 Cage Trailers
$59 for up to 24 hours
$39 for 4 hours
2.4m x 1.2m tray
Hire from either Albany or New Lynn depots
Ph 09 827 7620 to book!
Starting From:
$59
(per day)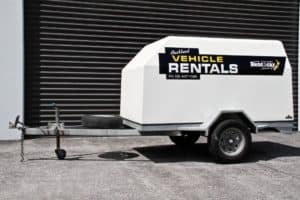 Starting From:
$35
(per day).
*minimum hire period applies
Auckland Vehicle Rentals – Car Trailer Hire Auckland
Car trailers can be very convenient; especially when you have a load to carry that won't fit in your car. You might not need one often enough to buy one, which is why it's best to go with car trailer hire whenever you need one. This way, you won't need to worry about the high purchase cost or where to store it when you aren't using it. Think about it – when last did you need to transport organic waste from your backyard, or help a friend move to a new apartment? When the next time comes, don't try to squeeze everything into the boot of your car. Use cheap trailer hire in Auckland from Auckland Vehicle Rentals.
What We Offer
Other than our cars, trucks and minibuses, AV Rentals has now added car trailers to our fleet. They're durable, easy to use, and modern. The rental process is quick and painless, because we've been in the industry for almost 20 years, and we know what our customers want.
Whether you're moving cargo from one location to another in a short trip, or you're going on a road trip and need more storage space, our car trailer hire service from Auckland Vehicle Rentals is your solution.
Our Car Trailers For Hire
At AV Rentals, we have two different models of car trailers for you to choose from, so that you can rent the trailer that fits your requirements best.
Our Cage Trailers
Manufactured with a secure mesh carriage with an open-top
Best for moving irregular loads, and items of different sizes
Cage for added support
2.4m x 1.2m tray
$39 for 4 hours
$59 for 24 hours
Available to hire from our depots in Albany and New Lynn
Our Luggage Trailers
Perfect for transporting luggage when you're going on a trip
Attached to any vehicle, minibus or van for added storage space
Hitches to our 10 and

12 seater vans

which are also available for hire
Why Choose Us
Auckland Vehicle Rentals is your solution for cheap car trailer hire. You'll enjoy our competitive pricing, professionalism, and our friendly, helpful and accommodative service. No matter how many questions or concerns you have, we're prepared to answer each one.
Whether you need to move some boxes, remove a few items of furniture, or whether you're packing supplies for a trip, Auckland Vehicle Rentals is the solution you need. Call us today for more information on our cheap car trailer hire in Auckland.