Albany is a fast-growing shopping and retail zone in the northern suburbs of Auckland. It's no surprise that truck rentals are in high demand. 
If you are in Albany and you plan on moving to a new home or need some extra help moving hefty items, Auckland Vehicle Rentals' services are available to you. Our locally owned business has provided truck rental services to residents over the years, and we are equipped with perfect vehicles for your move. 
Our available fleet of trucks include the following:
2 TONNE RENTAL TRUCKS
This rental truck has a box body of 10 cubic meters and has an automatic transmission which makes driving the vehicle easy. While you can hire a 2-tonne truck without additional features, we give you an option that comes with a hydraulic lift (at a slightly higher price that is).
The 2-tonne truck is also available with a 12 cubic meter box size if you are looking for something larger. This Luton box version comes with a handy pullout loading ramp
All the types of 2-tonne trucks come with reversing cameras and can be driven with a car license.
3 TONNE RENTAL TRUCKS
This truck has a box body of approximately 20 cubic meters and is perfect for moving large items. They come in automatic transmission with reversing cameras, and all 3-tonne trucks are equipped with hydraulic tail lifts. 
If you are concerned about what type of license can be used to hire this rental truck, no worries – all you need is a car license, and you're good to go!
MOVING VANS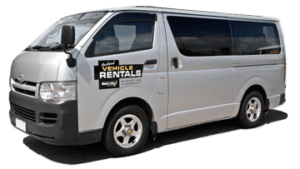 When hiring a moving van, our services provide you with two alternatives to choose from, the high top (7 cubic meters cargo area) and the low top (6 cubic meters cargo area).
They both have side and back doors and automatic transmission.
These vans are great for moving lighter household items.
All our truck and moving van rentals include 100 km of distance free, standard insurance, and GST. We focus on providing you with excellent services to make sure you have an effortless move. 
Please note that prices and offers may change…so do check the vehicle pages on our website for up to date offers and pricing.