When you're moving house on a budget, or just shifting a single large item, a truck for hire is indispensable. The right vehicle at the right price can save the day, and of course the wrong one can cost more than anticipated in dollars, effort, and time.
Here are our top tips for finding the right truck for hire in Auckland.
Wise to Upsize?
The cost of any truck for hire in Auckland is primarily based on the box size. Committing to a bigger truck than you need means that you could be paying more than necessary, while mistakenly hiring a smaller one will cost you in extra trips, mileage, fuel, and general stress! Always check the box measurements when choosing a truck for hire, and try to mentally pack your belongings into that space. Allow lots of extra space for all the small things you forgot to load in your virtual truck, and don't forget the shed and garage. If you're moving locally in Auckland then unforeseen extra trips may be fine, for greater distances it's often wise to upsize – just in case.
Book Your Truck For Hire Early!
You want to move on a Saturday? Guess what – so do most people in Auckland. If moving during the week is feasible for you, then you may find that a broader range of trucks is available, and you're more likely to get a truck for hire at short notice. Some companies occasionally offer mid-week discounts to make these days even more attractive. If a weekend if your only option, be sure to book your truck for hire well in advance.
Where Is The Truck For Hire?
It sounds silly, but in this age of online browsing and price comparisons some people book the first cheap truck for hire in Auckland that they see, only to realise that the pick up location is miles away. This usually results in extra fuel and mileage costs just to save a few dollars on the initial hire, not to mention the time wasted in Auckland traffic on a busy and stressful day. Double check whether the truck for hire will be available from a branch that is convenient to you, or if not, that the deal is still worth the extra travel.
Will Hidden Charges Offset A Cheap Quote?
One of the reasons it's hard to compare quotes for a truck for hire in Auckland is that your final cost is usually made up of at least two factors: the hire cost, and the mileage rate. Some companies advertise VERY low hire prices in VERY large print, offset this with a high mileage fee, so it's critical that you take a moment to calculate the cost of your estimated distance. Remember too, that trucks for hire are classed as commercial vehicles, and so many companies will also add GST on to all their quoted figures. It's worth mentioning that a truck for hire from Auckland Vehicle Rentals comes with 100 free kms included in their already sharp prices, and GST is included too. Kilometre rates for longer distances are also cheaper than many other operators.
Spend It Where It Counts
Sometimes it's worth spending a few extra dollars if it saves you extra work, risk, or cost down the track. In a pressure cooker situation such as a house move, this has never been more relevant.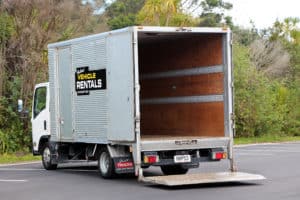 Tail Lifts: The single greatest invention for the amateur furniture mover, this feature can transform loading appliances, workshop equipment, and hefty furniture into a single-handed operation. It can also be set halfway up and used as a large step, saving you and your crew the hassle of climbing in and out of the truck all day. Not surprisingly, a tail lift truck for hire is always in demand – book early if this feature is on your wish list.

Trollies, furniture blankets, and straps: These small and inexpensive accessories can really help your move go smoothly. And again, if they're critical to you it's worth confirming that they can be added to your booking. The quantity and style of blankets, straps and trollies can also vary greatly between Auckland rental companies, so this is worth clarifying too.
Insurance: Like rental cars, a truck for hire in Auckland usually includes only the most basic insurance cover, and the hirer may need to accept responsibility for a much higher excess than their private motor vehicle insurance policy. Check out the options for reducing this excess, the extra cost is usually very reasonable. That way you can move on quickly and affordably from any mishap.
If you need a truck for hire in Auckland, contact Auckland Vehicle Rentals for an all-inclusive quote.