Rental trucks are some of Auckland's most in-demand rental vehicles thanks to their huge range of applications: furniture moving, deliveries, event support vehicles – almost everyone has a use for one at some point. However, perhaps our most commonly asked question is:
"I have a car licence – what's the biggest truck I can rent?"
Many people are surprised to learn that the maximum limit in NZ was raised to 6000kg gross vehicle mass several years ago. This law change plus the ease of operating modern trucks (automatic transmissions, reverse cameras etc) means that many Auckland car licence holders can drive and hire larger trucks than they thought.
Label bashing
Rental trucks display loading certificates on the windscreen which will tell you if it can be driven on a Class 1 licence.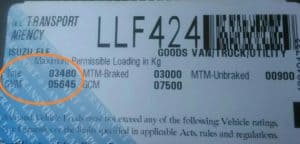 Tare Weight is the vehicle weight, fuel only, no occupants. In Auckland, rental trucks are often described as a 2-tonne or 3-tonne based loosely on this figure, but in practice the description usually reflects the box size rather than the technical weight, as this is really what customers want to know.
Gross Vehicle Mass (GVM) is the weight of the vehicle including its maximum legal load it is rated to carry. A vehicle with a GVM under 6000kg can be driven on a car licence.
GVM minus the tare weight tells you the maximum load the truck is allowed to carry.
Need an Auckland Truck Rental?
At Auckland Vehicle Rentals we hire both the handy 2-tonne trucks,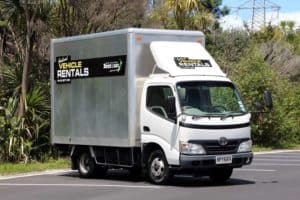 and their more spacious 3-tonne sisters.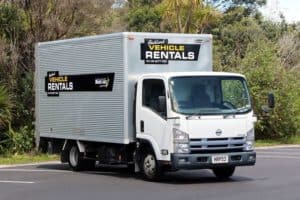 Click here for a quote on the size of your choice, or contact us here to find out how we can help with your move!